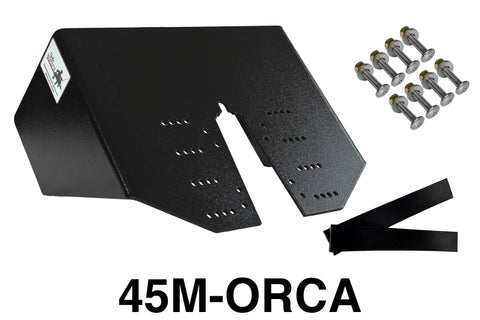 Orca Performance Fin
PN: 45100
UPC: 810009490234
The Orca-Performance Fin triples the effective rudder area providing a tighter turn radius and sharp crisp directional control at any speed. The larger surface area of the Orca-Performance Fin blocks cavitation better than hydrofoils while adding the benefit of enhanced slow speed maneuvering and heading control.
" Your ORCA FIN WITH THE CLAMP MOUNT is an amazing product!!! My crestliner discovery 1450 with a 40 Mercury outboard had a serious problems with HIGH BOW RISE to where I couldn't see in front of me and the boat would not plane, even at full throttle. The ORCA FIN was added to my boat along with a 4 blade propeller and both problems are gone. There is virtually no bow rise and the boat planes almost immediately!!!! This video truly shows the effectiveness of the ORCA FIN. Thank you! -Thomas
The Orca-Performance Fin installs in minutes without drilling using the 45M-Clamp kit or bolts directly to the cavitation plate using included hardware. The Orca fin is usually mounted with the fins down but may be installed fins up without modification if you desire less aggressive control. Used and tested on fishing boats, runabouts, pontoon boats, cruisers, ski boats and bass boats since 2002.
Recommended for motors from 80 to 300 Horsepower with up to a 16" Diameter Prop
Benefits
3x the Steering Control

2x the Turn Rate

3x the Effective Rudder Area

Get on plane faster

Prevents Cavitation

Maximizes Thrust Resulting in Improved Engine Performance

Reduces Bow Rise

Improves Visibility
Features
Black Powder Coated Aluminum.

Made from 3/16" Aluminum.

Designed for boat motors with propellers up to 16 inches in diameter

Use on outboard and I/O engines up to 300HP (Not recommended for the Volvo with exhaust through cavitation plate.)

Compatible with autopilot systems

Simple installation

Patent Pending

Made in USA
No holes to drill when mounting the Uncle Norm's Fins with the No-Drill Clamp Set. Works on most outboard and I/O stern drives up to 300 HP. It's simple, fast and effective. Aluminum construction and powder coated for good looks and durability.
Designed to be Used with the Orca-Performance Fin and Dolphin-Trolling Fin

No Holes to Drill in the Motor

Machined from Solid Aluminum Bar Stock

Stainless Steel Hardware Included

Black Powder Coated Finish

Installs Quickly with Minimal Tools

Can Be Removed in Minutes

Simple Instructions

Made in USA
Videos
In Use Pictures
---
We Also Recommend
Orca Fin
My 24' deck boat with a 225hp stern drive wanted to "wander" excessively at slow speeds, requiring frequent correction. I was told I would grow accustomed to it and begin to correct without being conscious of it. With so many no wake zones near my home, I knew there had to be a better way. I found the Orca Fin on Uncle Norm's website and after doing my research I decided to give it a try. WHAT A GAME CHANGER!!! I can now idle in (pretty much) a straight line without touching the wheel. No more fighting to correct my path, plus the added benefit of making docking and maneuvering in heavy traffic so much easier. Like everyone who has ever owned a boat, I have spent a lot of money maintaining it, but this is by far the best money I've spent!
Orca fin, dolphin, and minnow
I own all 3, I love what they do. The orca fin saved my hind end the first time out. Went out too far on too windy of a day on Lake Erie. I was taking waves one after another when I turned around. I was able to get up on plane quickly and trim up the motor to raise the bow over the waves and get back to port safely. Before adding this it was nearly impossible to keep my bow up. I have a uniquely large boat but also flat bottomed so turning at slow speeds was also terrible. Not anymore! Thanks!
Excellent product
I installed with the fins up, it keeps me from constantly steering back and Forth when going at slow speeds, which keeps it up out of the water when up in a plane.
Thank You!
My Orka Performance Fin is INSTALLED!
The instructions were clear and once I cleaned-up the lower end, I was able to drill and fasten the fin. There is still plenty of room for the cooling-water muff I use for winterizing. EASY INSTALL!
orca
works great, got it quick, helpful people to order with