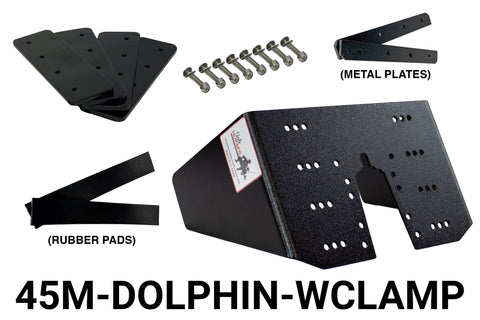 Dolphin-Trolling Fin with No-Drill Clamp Set
PN: 45104
UPC: 810009490241
The Dolphin-Trolling Fin gives you an edge on the water by providing exceptional tracking in wind and turbulent conditions. The fin triples the effective rudder area which improves your stability, increases your ability to turn and reduces the cycle time on your auto-pilot system. The Dolphin-Trolling Fin installs in minutes without drilling using the 45M-Clamp kit or bolt directly to cavitation plate using included hardware. Tested and approved by Alaska and Northwest fishing guides. 

Benefits
3x the Steering Control

2x the Turn Rate

3x the Effective Rudder Area

Exceptional Tracking in Windy and Turbulent Conditions

Reduced Cycling of Autopilot Units-Less Wear

Prevents cavitation and maximizes thrust
Features
Black Powder Coated Aluminum

Made from 1/8" Aluminum.

Designed for boat motors with propellers up to 10 inches in diameter

Compatible with autopilot systems

Simple installation

Patent Pending

Made in USA
No holes to drill when mounting the Uncle Norm's Fins with the No-Drill Clamp Set. Works on most outboard and I/O stern drives up to 300 HP. It's simple, fast and effective. Aluminum construction and powder coated for good looks and durability.
Designed to be Used with the Orca-Performance Fin and Dolphin-Trolling Fin

No Holes to Drill in the Motor

Machined from Solid Aluminum Bar Stock

Stainless Steel Hardware Included

Black Powder Coated Finish

Installs Quickly with Minimal Tools

Can Be Removed in Minutes

Simple Instructions

Made in USA
Videos
In Use Pictures
---
We Also Recommend
Dolphin-Trolling Fin with No-Drill Clamp Set
Very happy with the product- excellent quality,and very easy to install. Unfortunately I've only used it once but worked great.Time will tell if will perform as needed..
Very satisfied with Dolphin fin
The Fin is installed on a 19' high profile boat with a 25 horse 4-stroke. It was easy to install and works very well. The turning radius is shorter and low speed steering is much improved. The boat has a significant keel so the fin adds lots of turning power. There even is some steering control when in neutral. The fin is invaluable in wind and in docking.