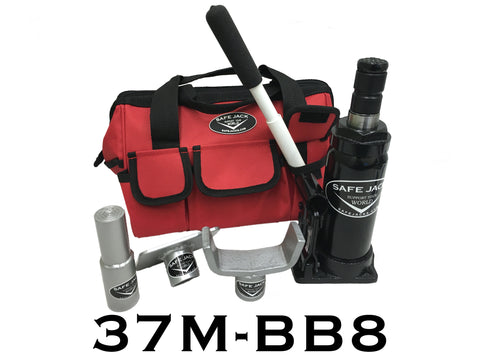 Starter Bottle Jack Recovery Kit with 6 Ton Bottle Jack
PN: 37102
UPC: 854185005776
Safe Jack's Basic Bottle Jack Kit is a great way to get started with Safe Jack or gear up your family vehicle. It has all the right stuff to get you back on the road. Jack Extensions extend the reach of the jack and the jack pads capture the load to prevent it from slipping off. Safe Jack accessories are interchangeable so add them as needed to expand the Basic Bottle Jack kit.
Benefits
Increases safety
Makes jacking easy in a variety of ways
More stable, secure
Extends the range and usefulness
Features
Extensions and jack pads can be combined in any combination
Lift at an axle, frame or other lift point
Durable steel construction
Extensions and pads are always made in the USA
INCLUDES:
1 ea. 37M-OM6T 6 Ton Bottle Jack
1 ea. 37M-ESC6 Bottle Jack Extension Screw Collar
1 ea. 37M-SJE3 3" Inch Bottle Jack Extension
1 ea. 37M-SJAF Flat Jack Pad
1 ea. 37M-SJR3 Universal Round Pad
1 ea. 37M-SJ12BAG Heavy Duty Canvas Safe Jack Bag
VIDEOS
Safe Jack
Great Jack we travel with it in our toy hauler! My son bought one for his converted Ambulance! Very strong jack !
Jeep JL with 2 ½ lift
Safe and ez; plain and simple!
Excellent Product
The overall appearance and condition of my recently received Starter Recovery Kit has every indication that it will last a lifetime. And, although I don't anticipate having to ever replace any of the components, I do anticipate providing a lifetime of endorsements to friends and family in my 4WD community.
My shipment was packaged to perfection by "MRG". How often have you made an on-line purchase and found the item simply placed in the bottom of the box with 2 modest layers of bubble-wrap haphazardly placed on top? My Safe Jack arrived with each item carefully, and completely protected inside of the durable carrying bag. Further, every piece was clean, and free of any residual manufacturing residue. This demonstrates a purposeful commitment to the entire production process and the resultant product. The uniform welds and the finish coatings are further evidence of this decision by the team at Safe Jack.
Finally, as the cost to ship 20lbs has recently escalated, the free shipping was a key factor in my purchase. So, a round of applause for the folks at Safe Jack who are clearly thinking of their customers. Based on my experience I am fully confident that my friends and family would benefit, and enjoy, doing business with the folks in Pasco Washington.
It works, it's neat and compact
It works, it's neat and compact
Great Customer service
Hi my name is CJ I drive the Jeep Venom I just want to reach out and say this is an awesome product I'm so happy that I purchased this and I want to give a big shout out to the people at safety Jack they were the best I feel they went above and beyond for me I had a problem receiving my bottle jack from FedEx they they gave me all kinds of excuses why it wasn't delivered on time everything from icy road conditions to road closures due to snow, I live in Florida , but I kept in contact with Bobby Joe with safety Jack and all of them there they were wonderful people through my ordeal thank you all at safety Jack for helping me through this with FedEx I will continue to recommend your product to my fellow off-roading community thank you all so much Merry Christmas Happy New Year and happy holidays God bless all of you