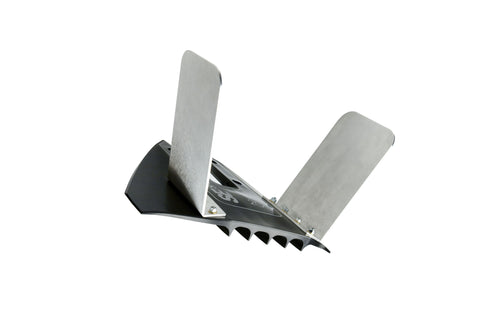 Hydrofoil Fin
PN: 45107
UPC: 810009490272
Add fins to your hydrofoil and add directional control and stability that you've been missing. Uncle Norm's Hydrofoil Fin triples the effective rudder area giving you powerful directional control at very high speeds and adds crisp, responsiveness at any speed. These fins do not add drag at high speeds but are a great help maneuvering at slow speeds and during docking or trailering the boat. Fins on hydrofoils are a great help tracking on course in windy conditions or in current.  Included 2 fins that bolt onto your hydrofoil fin.  Hydrofoil not included.
Benefits
Powerful direction control at any speed by adding 3x the effective rudder area

Positive steering at slow speeds and while docking or trailing the boat

Greatly improved tracking in windy conditions

Tighter and faster turn rate
Features
Durable aluminum construction
Simple installation with all hardware included
Fits most "StingRay" Type hydrofoils
Patent Pending
Made in USA
In Use Pictures
---
We Also Recommend
Trolling fins
Work great you have control
Great addition
I added the troll plate fin to my easy troller trolling plate. It was a very easy install and the added control it gives me is amazing. The control I have at trolling speeds is better now than when I had no plate attached at all. I wish I had put this on years ago. It also allows me to control my boat with my bow mount electric in conjunction with my 115hp outboard in the same way larger boats do with there kicker. I would highly recommend this for anyone with a midsize boat like mine (17') who enjoys trolling. It saved me the $5000 price tag of adding a kicker.
Great product
Purchased the trolling plate fin, excellent product, easy to install. The only complaint I have was the shipping costs.
Kakanee fishing with a trolling fin.
I'm sorry too report the day I took the boat out on New Malonies the lake was very rough. So my try out with the fin was not a good one. I will look forward to giving it another try shortly.