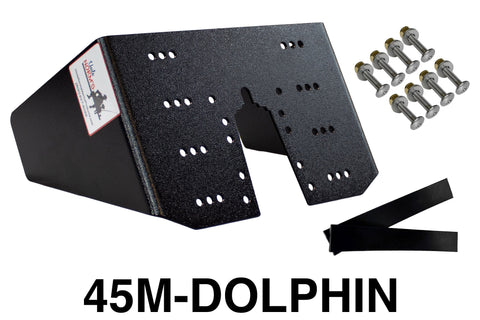 Dolphin-Trolling Fin
PN: 45101
UPC: 810009490258
The Dolphin-Trolling Fin gives you an edge on the water by providing exceptional tracking in wind and turbulent conditions. The fin triples the effective rudder area which improves your stability, increases your ability to turn and reduces the cycle time on your auto-pilot system. The Dolphin-Trolling Fin installs in minutes without drilling using the 45M-Clamp kit or bolt directly to cavitation plate using included hardware. Tested and approved by Alaska and Northwest fishing guides. 
Recommended for motors less than 79 Horsepower with up to a 12" Diameter Prop
Benefits
3x the Steering Control

2x the Turn Rate

3x the Effective Rudder Area

Exceptional Tracking in Windy and Turbulent Conditions

Reduced Cycling of Autopilot Units-Less Wear

Prevents cavitation and maximizes thrust
Features
Black Powder Coated Aluminum

Made from 1/8" Aluminum.

Designed for boat motors with propellers up to 12 inches in diameter

Compatible with autopilot systems

Simple installation

Patent Pending

Made in USA
No holes to drill when mounting the Uncle Norm's Fins with the No-Drill Clamp Set. Works on most outboard and I/O stern drives up to 300 HP. It's simple, fast and effective. Aluminum construction and powder coated for good looks and durability.
Designed to be Used with the Orca-Performance Fin and Dolphin-Trolling Fin

No Holes to Drill in the Motor

Machined from Solid Aluminum Bar Stock

Stainless Steel Hardware Included

Black Powder Coated Finish

Installs Quickly with Minimal Tools

Can Be Removed in Minutes

Simple Instructions

Made in USA
Videos
---
We Also Recommend
Great Upgrade
Wish I would have done this earlier. I have a 22" Duckworth Pacific Navigator the kicker always struggled to keep the bow straight in a cross wind. My Garmin TR1 worked too hard. The Dolphin Fin made it so it wasn't trying to turn the bow with just the propeller now it holds coarse easily and turns on a dime. Awesome upgrade for not much $.
only used it once mounts well worked good on first trip
Best Money Ever Spent
Purchased the Dolphin-Trolling fin and had installed in less than 1-hour. Used it the next day at very low speeds for walleye. The boat responded better than I imagined. Then it was on to salmon season, I am sure glad I spent the money. It made a world of difference on windy days and with big wakes of the other boats.
Auto pilot performance upgrade for Yamaha 9.9 kicker with Dolphin-Trolling Fin!
The Dolphin-Trolling Fin is a must have for any auto-pilot trolling motor, it calms the erratic movements from my TR-1 by having more rudder surface for smoother turning and helps control wind drift and wander for a straighter track. It works both equally well on lakes and in the ocean, I highly recommend it.